I started writing this over a month ago and then saved it as a draft and forgot about it.
Reading poetry lately, due to a horrible book with great
influences, Janet Fitch's second novel,
Paint it Black.
I read her first book,
White Oleander,
in one night, several years ago, after breaking it off with my then fiance. White Oleander is an amazing book, beautifully written, the kind of thing that makes you want to cut off your hands for trying to write, and I mean that in the nicest way possible. Forget that it's an Oprah book and forget that movie they made based on it.
Paint it Black
smacks so completely of "sophomore effort" it's not even funny. The prose, while technically beautiful, often falls flat and feels hollow. Even worse, though, is the fact that you hate the main character, hate the boyfriend whose suicide is the emotional black hole of the novel, hate the fact that this former white trash, trailer park beauty is reduced to such a simpering mess who happens to remember the names of every poet artist and musician ever to have lived. The central theme to the book is how do you live in a world that you created with another person, after that person has left you? The denouement is the worst, completely predictable, leaving you completely bewildered and irritated that you kept reading it, expecting it to turn a corner, manifest into something besides a hurried wreck of a second novel. I get that she is strong and yet weak, beautiful but tarnished blah blah blah, but she's so fucking
annoying
. The best thing to have come of reading the book is that it got me back into reading poetry, which I love, but I forget I love. I don't love how self aware the characters are about poetry in this book; these are characters that make you remember why people hate poetry/poets/France. But at least it got me to revisit Dylan Thomas and W. H Auden and my personal favorite, Wallace Stevens. It does make you realize that the best writing is that which
seems
effortless while still mind blowing and resonant and lovely/ horrid/filled with humor. The contrast to the pained writing of the book did it no favors especially upon reading g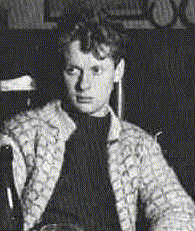 reat lines like:
"Our eunuch dreams, all seedless in the light,
Of light and love, the tempers of the heart,
Whack their boys' limbs
And, winding-footed in their shawl and sheet,
Groom the dark brides, the window of the night,
Fold in their arms...." D. Thomas, 18 Songs
Lovely.
I love this picture of DT, he's so young and foxy and complicated looking. They don't make poets like they used to, not that I help, as, if any guy tells me he's a poet I quietly deride him on the inside and may be given to laughing at him in public. It takes balls to be a poet, b/c generally, everyone is going to see you as a sensitive pony tail mother fucker, yaknowhatI'msayin?
There is this contemporary poet I like named Edward Hirsch, he used to baby sit Sasha when she lived in Detroit. (known as "Uncle Eddie" to her, no less) who wrote a book about appreciating poetry titled, aptly, How to Read a Poem and Fall in Love with Poetry. He wrote one of my favorite poems, in his first collection by the same name, For the Sleepwalkers.
"Tonight I want to say something wonderful
for the sleepwalkers who have so much faith
in their legs, so much faith in the invisible
arrow carved into the carpet, the worn path
that leads to the stairs instead of the window,
the gaping doorway instead of the seamless mirror.
I love the way the sleepwalkers are willing
to step out of their bodies into the night,
to raise their arms and welcome the darkness,
palming the blank spaces, touching everything.
Always they return home safely, like blind men
who know it is morning by feeling the shadows.
And always they wake up as themselves again.
That's why I want to say something astonishing
like: Our hearts are thirsty black handkerchiefs
flying through the trees at night, soaking up
the darkest beams of moonlight, the music
of owls, the motion of wind-torn branches.
And now our hearts are thick black fists
flying back to the glove of our chests.
We have to learn to trust our hearts like that.
WE have to learn the desperate faith of sleep-
walkers who rise out of their calm beds
and walk through the skin of another life.
We have to drink the stupefying cup of darkness
and wake up to ourselves, nourished and surprised."
This post reminds me of a concept I came across in
The Believer
a couple of years ago,
in an article about Russel Edison
by Sarah Manguso. Edison, a "prose poet" most famous for a short prose poem titled "Counting Sheep" ("A scientist has a test tube full of sheep. He wonders if he should try to shrink a pasture for them. // They are like grains of rice." ) Basically it talks about the disconnect between the reader and the text when reading prose poetry as it
looks
like prose but it smells like fish. In other words:
"In prose poetry the prose form does not necessarily give rise to a linear accumulation of meaning. While co opting prose's verbal structures, prose poems imitate prose incompletely or incorrectly. They promise prose but botch the delivery."
What's fascinating is that, outside academia, and in my opinion often inside it, this is the same disconnect people have when reading all poetry. It seems too cerebral or elusive or difficult. It's too bad, really, as there are really amazing poets who write perfectly beautiful and accomplished poetry that doesn't make you want to bang your head on the wall. I know if I ever had to analyze "The Red Wheelbarrow" in a classroom setting again I would shoot myself. Do you guys read poetry? Do you even like it? Who are your favorite poets? It's interesting that after the folk movement in the first part of the twentieth century that songwriters became our poets. Is it fair that the guys with the guitars are the last bastion of poetry left?